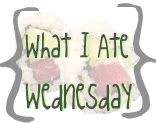 In the spirit of getting to know a person I have found a great feature from
Peas & Crayons
that I thought would be fun and give you a glimpse into what I eat when I'm not doing a
recipe for my blog. It is called "What I Ate Wednesday". The concept is to get some pics of at least one meal a day, including snacks, and let you see a day in my dietary life. It should be a fun and interesting glimpse outside my normal posts. Do you wonder if I eat like the recipes I post all week? The answer is HECK no! I plan those meals for when time allows me to cook like that. My diet outside that is something like this....
For breakfast, a bacon egg and cheese burrito with home made salsa and tortilla from a co-worker who makes food at home and brings it in for us to eat, at a small charge. This breaks up the same old food from the restaurant day in and day out. And it's cooked with love, you can taste it!
While at work I sneak in a power bar! And somewhere along the day I do a protein shake, I use orange juice and the chocolate for some flare! Don't knock it, try it!
For my snacks I had some Scottish Toffee that I made for my blog and co-workers, and some of my spicy Tabasco Egg Salad! Just on some crackers and in small portions I don't feel to glutinous!
I got my taxes back recently and treated myself to my favorite dinner, not to mention I have been training a lot harder trying to get in shape for some upcoming Judo and Jiu-Jitsu Tournaments. I felt like I deserved it, plus I eat what I want one day a week to keep the cravings to a minimum. Cravings kill a diet plan and often make you feel guilty and make you drop the diet I have found. A nice Rib eye marinated in Worcestershire sauce, garlic, Montreal steak seasoning, and Tabasco. To go with it an artichoke boiled in red wine vinegar water and finished off on the gill with olive oil, sea salt and pepper! Ohhh my it would be my last meal if ever I had to choose :)
Well that's "What I Ate Wednesday"! What did you have?????